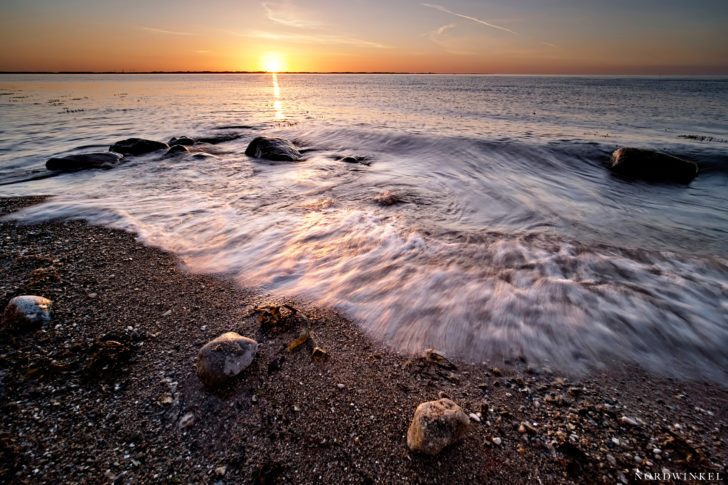 It is a gift, to have a the beautiful Baltic Sea right on your doorstep. I love to sit on the beach and have a look out to the sea. Espescially late in the evening or early in the morning, when no one else is there. And if the sun start a light show like in the last weeks, it is simply stunning. I could stay there for hours and it won't be boring. The only sounds comes from the sea, some seagulls and sometimes a small fishing boat.
Moments like the one in the picture at the beautiful Baltic Sea let me freeze in awe of nature. But sometimes I also realise in these moments, how vulnerable the sea is. The climatic change will have an impact, that is not yet foreseeable. For me it is unbelievable, that the human race knows more about the universe, than about the sea. But Humanity is exploiting the sea without knowing what the consequences will be. Fortunately there are a small number of brave people, who protect and defend the ecosystem sea. And with a picture like this, I wanna say thank you to Sea Shepherd and their use to protect the sea!
You want to see more of my pictures of sunsets? Click here.
You want to know more about Sea Shepherd? Click here.
Deutsche Version
Es ist ein Geschenk, die schöne Ostsee direkt vor der Haustür zu haben. Ich liebe es, am Strand zu sitzen und auf das Meer hinauszuschauen. Besonders spät am Abend oder früh am Morgen, wenn sonst niemand da ist. Und wenn die Sonne ein Lichtspiel wie in den letzten Wochen am Himmel startet, ist es einfach atemberaubend. Ich könnte stundenlang dort bleiben und es würde mir nicht langweilig werden. Die einzigen Geräusche, die man hört, kommen vom Meer, von einigen Möwen und manchmal von einem kleinen Fischerboot.
Momente wie auf dem Bild an der schönen Ostsee lassen mich in Ehrfurcht vor der Natur erstarren. Aber manchmal wird mir in diesen Momenten auch bewusst, wie verletzlich das Meer ist. Der Klimawandel wird Auswirkungen haben, die noch nicht absehbar sind. Für mich ist es unfassbar, dass die Menschheit mehr über das Universum weiß, als über das Meer. Aber das Meer wird ausgebeutet, ohne im Entferntesten abschätzen zu können, was die Folgen sein werden. Glücklicherweise gibt es eine kleine Zahl mutiger Menschen, die das Ökosystem Meer schützen und verteidigen. Und mit einem Bild wie diesem möchte ich Sea Shepherd und ihrem Einsatz zum Schutz des Meeres meinen Dank aussprechen!
Möchtest du mehr von meinen Sonnenuntergangsbildern sehen? Klicke hier.
Möchtest du mehr über Sea Shepherd erfahren? Klicke hier.