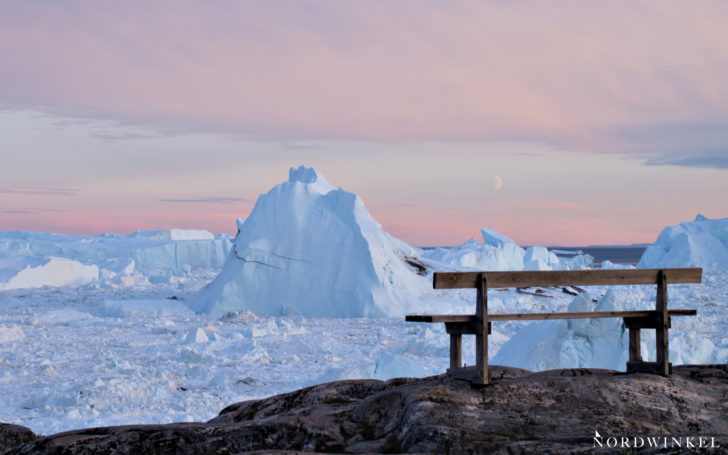 The bench at the Icefjord near Ilulissat. I could spend there the whole day and it wouldn't be boring. Early in the morning or late in the evening, when nearly nobody is there, it is one of my Top 3 places in the world. I can't imagine a better place to relax. The only sounds you might hear, are the sounds of the nature. Like the the howling of the greenlandic sledgedogs, the breathing of whales and the crack of the icebergs. This scenery was complete by a beautiful sunset with a lot of shades of yellow and red in the sky.
I know, I repeat myself, Moments like these increase the longing to come back to Greenland and sit on the bench at the Icefjord. Hopefully this year. And hopefully Greenland will be largely spared the corona virus.
If you want more informations about Ilulissat and the big Icefjord, click here.
If you want to see more pictures of the Icefjord, click here.
Deutsche Version
Die Bank am Eisfjord bei Ilulissat. Dort könnte ich den ganzen Tag verbringen und es würde mir nicht langweilig werden. Früh morgens oder spät abends, wenn fast niemand da ist, ist es einer meiner Top-3-Plätze der Welt. Ich kann mir keinen besseren Ort zum Entspannen vorstellen. Die einzigen Geräusche, die man dort vielleicht hört, sind die Geräusche der Natur. Wie das Heulen der grönländischen Schlittenhunde, das Atmen der Wale und das Knacken und Krachen des Eises. Diese Szenerie wurde durch einen wunderschönen Sonnenuntergang mit vielen Gelb- und Rottönen am Himmel komplettiert.
Ich weiß, ich wiederhole mich: Momente wie diese verstärken die Sehnsucht nach einer Rückkehr nach Grönland. Hoffentlich noch in diesem Jahr. Und hoffentlich wird Grönland vom Corona-Virus weitestgehend verschont.
Für weitere Informationen zu Ilulissat, klicke hier.
Für weitere Bilder vom Eisfjord, klicke hier.