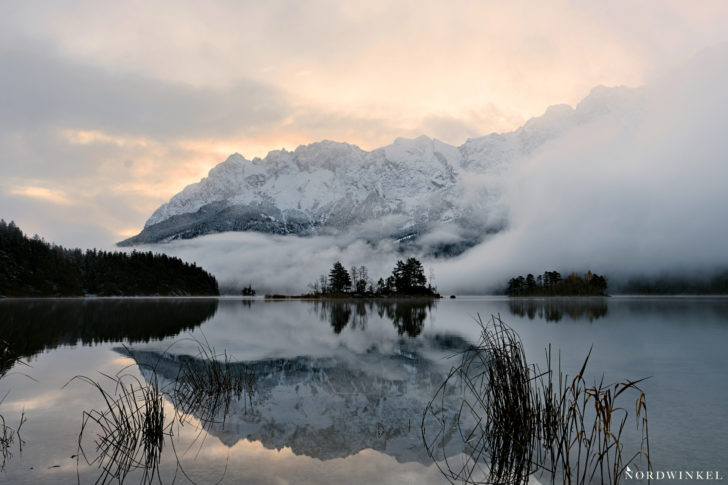 The sky at lake Eibsee is burning, in fact just for a few minutes. But these moments were it worth to drive nearly 1000km from the north of Germany to the south of Bavaria. I stayed near the highest mountain of Germany, Zugspitze, for four days. In these four days, there was only one day with nice colours at sunrise and sunset. Exactly this day, were I met two other guys to take pictures. Ma by, it was propably up to them…
Directly besides the station to the top of the Zugspitze, there is a big lake, called Eibsee. This lake is really famous. In summer, my fellows told me, the whole shoreline of the lake is overcrowded by photographers. And there is also a famous big rock, where a lot of Instagram-Users take the same pictures. But most of them didn't realize, in which beautiful surroundings they were. Even in this morning, there fell some fresh snow and it gets really cold for the first time in this winter. So there were just a few people at the lake, and we were possible to enjoy the silence and the burning sky over Eibsee.
Here, you can find some more informations about holidays in bavaria.
Here and here, you can find other pictures of the lake Eibsee.
Deutsche Version
Der Himmel über dem Eibsee brennt, wenn auch nur für ein paar kurze Minuten. Aber gerade solche Momente waren es absolut wert, die knapp 1000km von Kiel in den Süden Bayerns zurückzulegen. Ich verbrachte vier Tage quasi direkt am Fuße der Zugspitze. Von diesen vier Tagen gab es allerdings nur an dem Tag ein wenig Farbe zum Sonnenauf- und Sonnenuntergang, an dem ich zwei Freunde zum Fotografieren traf. Muss wohl an den beiden gelegen haben…
Direkt neben der Zugspitzstation mit der berühmten Bahn zum Gipfel, liegt der Eibsee. Dieser See ist mittlerweile ziemlich berühmt geworden. Im Sommer, so erzählten mir meine Kumpels, ist wohl das gesamte Seeufer mit Fotografen übersät. Dazu gibt es einen großen Felsen, an dem ein Großteil der Instagramer das immer gleiche Foto aufnimmt. Dabei realisieren sie gar nicht, in welch wundervoller Umgebung sie sich befinden.
Glücklicherweise sorgte der erste Frost und Schnee im Winter 2019 dafür, dass wir weitestgehend allein am See waren. So konnten wir nicht nur das wundervolle Spektakel am Himmel genießen, sondern auch die angenehme Ruhe.
Hier, gibt es allgemeine Informationen zum Urlaub in Bayern.
Hier und hier, gibt es noch zwei weitere Bilder vom Eibsee.