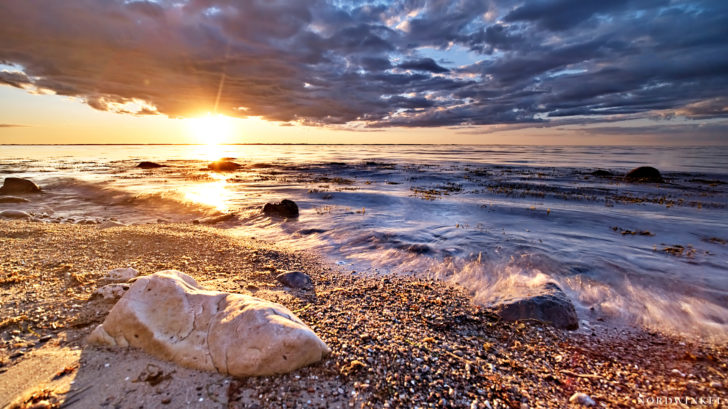 The last few weeks I had a lot of possibilities to take pictures of the evening Baltic Sea. Like on this day. A lot of clouds hung at the sky, when I drove to the beautiful natural beach in Dänisch-Nienhof. When I arrived, the sky loosened up with every minute. Just in time for the sunset only a few cloud were left. Just enough to create a breathtaking lighting mood. So I was rewarded with a great sunset at the evening Baltic Sea.
I like these moments in the evening on the beach. The whole world fall into silence. The only sounds come from birds, wind and the water. All the everyday problems suddenly become very small and are very far away in the face of natural beauty. These brief moments of pause are so precious to me. They allow me to look at everyday life from a little more distance and not take myself so seriously. On my hiking tours I had the same feeling, may be that's the reason, why I got addicted to these hiking thing.
You want to see more of my pictures of sunsets? Click here.
You want more informations about Dänisch-Nienhof and its beach? Click here (I'm sorry, the website is only in german).
Deutsche Version
In den letzten Wochen hatte ich viele Möglichkeiten, die abendliche Ostsee zu fotografieren. Wie an diesem Tag. Viele Wolken hingen am Himmel, als ich an den schönen Naturstrand in Dänisch-Nienhof fuhr. Als ich dort ankam, lockerte sich der Himmel mit jeder Minute auf. Pünktlich zum Sonnenuntergang waren nur noch wenige Wolken übrig. Gerade genug, um eine atemberaubende Lichtstimmung zu erzeugen.
Ich mag diese Momente abends am Strand. Die ganze Welt versinkt in Stille. Die einzigen Geräusche kommen von Vögeln, Wind und Wasser. All die alltäglichen Probleme werden plötzlich sehr klein und sind angesichts der natürlichen Schönheit sehr weit weg. Diese kurzen Momente des Innehaltens sind für mich so kostbar. Sie erlauben mir, den Alltag aus etwas mehr Distanz zu betrachten und mich selbst nicht so ernst zu nehmen. Auf meinen Wanderungen hatte ich das gleiche Gefühl, vielleicht ist das der Grund, warum ich nach diesen Wanderungen süchtig geworden bin.
Möchtest du weitere meiner Bilder von Sonnenuntergängen sehen? Klicke hier.
Möchtest du weitere Informationen zu Dänisch-Nienhof und dem dazugehörigen Strand? Klicke hier.