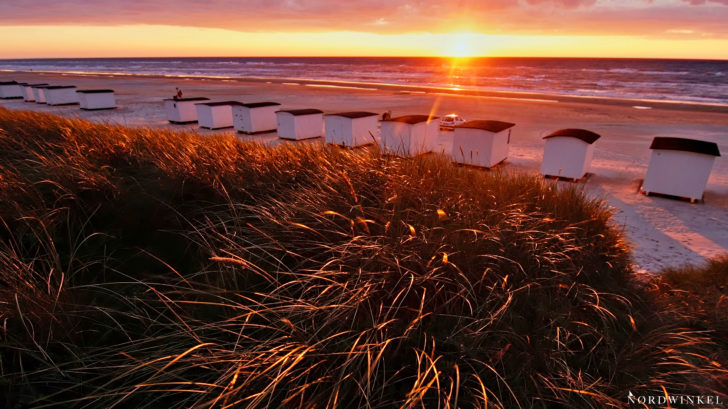 In 2013 I came the first time to Denmark. I don't know, why it took so long. After a period of some really big trouble, I decided to spent my holidays alone. I sought for a place to rest, where I only had to focus on myself. And Denmark was absolutely perfect!
I never got the feeling of being alone in a bad meaning. Yes, I was alone, but it was such an helpful experience. I never got bored, I never felt lonely, I was just relaxing. When I came back after two weeks, it felt like I was newborn. After this weeks in June of 2013, I got back several times. The sea, the wind, the groundstanding people remind me, what is important in life. Something I realised at my first time in denmark. It almost feels a little bit coming home, when I cross the border between Denmark and Germany. It seems like the whole trouble ist caught on the border. Such a wonderful feeling.
Here you can find more informations about Løkken, my favourite place in Denmark. And here, here, here and here you can find a few more pictures of this wonderful place.
Deutsche Version
2013 kam ich das erste Mal nach Dänemark. Ich kann mir heute nicht mehr erklären, weshalb das so lang gedauert hat. Nach einer sehr streßigen und kräftezehrenden Zeit, entschied ich mich, meinen Jahresurlaub allein zu verbringen. Ich suchte nach einem Platz oder Ort, wo ich mich endlich wieder ein wenig auf mich selbst besinnen konnte. Was ich nicht ahnte, Dänemark war dafür nahezu perfekt.
Während des Urlaubs fühlte ich mich nicht ein einziges Mal wirklich einsam. Ich genoß die Zeit des Alleinseins und dass ich bei Entscheidungen über den Verlauf der Reise, lediglich auf mich selbst Rücksicht nehmen musste. Als ich zurückkehrte, fühlte ich mich wie neugeboren. Nach diesem ersten Kennenlernen 2013 für zwei Wochen, zog es mich sehr häufig nach Dänemark. Und wirklich enttäuscht, wurde ich nie. Das Meer, der Wind und die bodenständigen Leute sorgen bei mir dafür, dass ich sehr schnell wieder merke, worauf es im Leben eigentlich ankommt. Und dass es tatsächlich wesentlich Wichtigeres gibt, als im Alltag lediglich zu funktionieren. So fühlt es sich jedes Mal, wenn ich die Grenze nach Dänemark überquere, an, als käme ich ein Stück nach Hause. Der ganze Ärger, die ganzen Sorgen bleiben einfach an der Grenze hängen. Ein wundervolles Gefühl.
Hier gibt es weitere Informationen zu Løkken, meinen Lieblingsort in Dänemark. Und hier, hier, hier und hier gibt es noch ein paar weitere Fotos aus Løkken zu sehen.