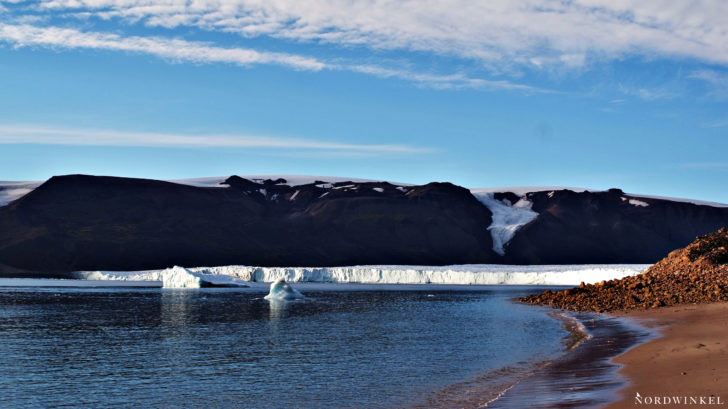 On the journey at the greenlandic westcoastline in 2015, we also visited a huge glacierfront in Northgreenland. Near the most northern settlement of Greenland, Siorapaluk, we drove into an incredible fjord. And at the end, we came to this glacier.
When we went ashore, we were overwhelmed by the feeling of standing in a place that very few people had ever entered before. It felt like we were discoverer in this unbelievable beauty of nature. With our guides we hiked on the moraine of the glacier and got a breathtaking view over the whole front. There we made a break and fell into silence. The only sound we could hear, came from the ice. Nothing else.
This was another one of these impressive moments, that I experienced on the whole trip of 18 days in Greenland in 2015. It's hard to describe with words, what this first trip means to me. I had the constant feeling of being, where I should be. After the first journey I returned to Greenland two more times. And with every visit the longing for the next trip grows more intense. Actually, I planed my fourth visit. But if it will be possible this year, is still written in the stars. Nevertheless I will return, that's for sure. If not this year, than the next one. Two years with no Icebergs will be hard, sure. But I know, I will stand one day again on a moraine and watch a glacierfront in Northgreenland. At the moment I guess, there is no other option than to wait.
Links
Click here to find more pictures of wonderful moments in Greenland.
Click here to find informations about the northern part of Greenland.
Deutsche Version
Auf der Reise an der grönländischen Westküste im Jahr 2015 besuchten wir auch eine riesige Gletscherfront in Nordgrönland. In der Nähe der nördlichsten Siedlung Grönlands, Siorapaluk, fuhren wir in einen unglaublichen Fjord hinein. An dessen Ende erreichten wir diesen Gletscher.
Als wir an Land gingen, waren wir überwältigt von dem Gefühl, an einem Ort zu stehen, den nur sehr wenige Menschen jemals zuvor betreten hatten. Es fühlte sich an, als seien wir Entdecker in dieser unglaublichen Schönheit der Natur. Mit unseren Führern wanderten wir auf die Moräne des Gletschers und bekamen einen atemberaubenden Blick über die gesamte Front. Dort machten wir eine Pause und verfielen in absolute Stille. Das einzige Geräusch, das wir hören konnten, kam aus dem Eis. Sonst war nichts zu hören.
Dies war ein weiterer dieser beeindruckenden Momente, die ich auf der gesamten Reise im Jahr 2015 von 18 Tagen in Grönland erlebte. Es ist schwer mit Worten zu beschreiben, was diese erste Reise für mich bedeutet. Ich hatte beständig das Gefühl dort zu sein, wo ich hingehöre. Nach der ersten Reise bin ich noch zweimal nach Grönland zurückgekehrt. Und mit jedem Besuch wird die Sehnsucht nach der nächsten Reise in den hohen Norden intensiver. Eigentlich hatte ich dieses Jahr meinen vierten Besuch geplant. Aber ob dies möglich sein wird, steht noch in den Sternen. Trotzdem werde ich zurückkehren, das ist sicher. Wenn nicht dieses Jahr, dann das nächste. Zwei Jahre, in denen ich keine Eisberge beobachtet habe, werden sicher hart. Aber ich weiss, ich werde eines Tages wieder auf einer Moräne stehen und eine Gletscherfront in Nordgrönland beobachten. Im Moment gibt es einfach keine andere Möglichkeit, als abzuwarten.
Links
Klick hier um weitere Bilder großartiger Momente in Grönland zu finden und klick hier um zum gesamten Reisebericht meiner Grönlandreise 2015 zu gelangen.
Klick hier um Informationen über Nordgrönland zu finden.