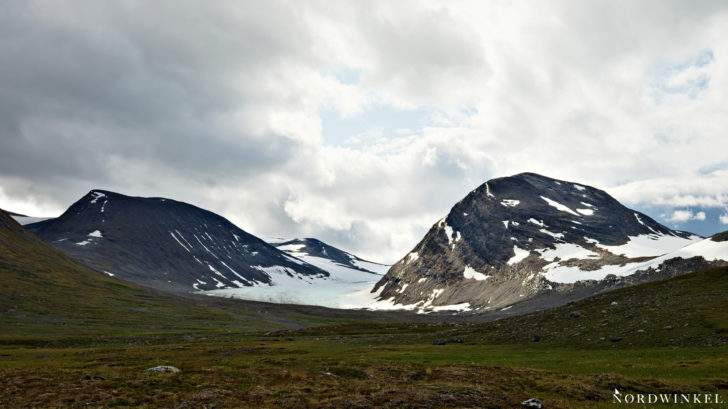 One of the countless glaciers inside Sarek Nationalpark we saw on our trekking tour. It is one of the smaller glacier. The Sami name is "Alep Ruohtesjiegna", what means "western Ruohtesglacier". He is named after the highest mountain in this subfield of the nationalpark, Ruohtes. We crossed the valley of the same name, Ruohtesvágge, in two days on our way to Skarja, "the heart of Sarek". It was our third day of hiking in Swedish Lapland and the second day inseide the Nationalpark without marked paths.
The landscape inside Ruohtesvágge was spectaculare and really easy to hike. Formed by the river Nijákjågåsj, the valley was overgrown with gras and cloudberries. The only challenge consisted in crossing the glacial rivers. And there were a lot of them. On the one hand it was easy to get clear and tasty drinking water. But on the other hand, the water was extreme cold. So it took quite an effort to step with thin wading shoes into the river. On our two hiking tours before, we had some generally problems with river-crossing. Normally we walked up and down nearly an hour, to cross the rivers without changing shoes. Already on the second day in Sweden we were cured of this stupid habit. On the first two days alone we forded more creeks and rivers than in Greenland and Iceland together. A result of the many glaciers inside Sarek Nationalpark.
You want more pictures of the hiking tour inside Sarek Nationalpark? Click here.
You want more informations about hiking inside Sarek Nationalpark? Click here or here. Claes Grundsten had written a book about hiking in the Sarek Nationalpark, I can really recommend!
Deutsche Version
Einer der unzähligen Gletscher im Inneren des Sarek-Nationalparks, an dem wir auf unserer Trekkingtour vorbei kamen. Er ist einer der kleineren Gletscher. Der samische Name lautet "Alep Ruohtesjiegna", was soviel bedeutet wie "westlicher Ruohtesgletscher". Er ist nach dem höchsten Berg in diesem Teilgebiet des Nationalparks, dem Ruohtes, benannt. Wir durchquerten das gleichnamige Tal, Ruohtesvágge, in zwei Tagen auf dem Weg nach Skarja, "dem Herzen des Sarek". Es war unser dritter Wandertag in Schwedisch-Lappland und der zweite Tag innerhalb des Nationalparks ohne markierte Wege.
Die Landschaft innerhalb der Ruohtesvágge war spektakulär und einfach zu wandern. Vom Fluss Nijákjågåsj geformt, war das Tal mit Gras und Moltebeeren bewachsen. Die einzige Herausforderung bestand darin, die Gletscherflüsse zu überqueren. Und davon gab es eine Menge. Einerseits war es einfach, klares und schmackhaftes Trinkwasser zu bekommen. Aber auf der anderen Seite war das Wasser extrem kalt. So kostete es reichlich Überwindung, mit den dünnen Watschuhen in den Fluss zu steigen. Auf unseren beiden Wanderungen zuvor hatten wir einige allgemeine Probleme mit der Flussüberquerung. Normalerweise liefen wir fast eine Stunde auf und ab, um die Flüsse zu überqueren, ohne die Schuhe zu wechseln. Bereits am zweiten Tag in Schweden wurden wir von dieser dummen Angewohnheit geheilt. Allein an den ersten beiden Tagen durchwateten wir mehr Bäche und Flüsse als in Grönland und Island zusammen. Eine Folge der vielen Gletscher im Sarek Nationalpark.
Möchtest du mehr Bilder aus dem Sarek Nationalpark sehen? Klick hier.
Suchst du weitere Informationen zum Wandern im Sarek Nationalpark? Klicke hier or hier. Claes Grundsten hat ein Buch über das Wandern im Sarek geschrieben, welches ich absolut empfehlen kann! Das hat uns mitunter sehr geholfen.