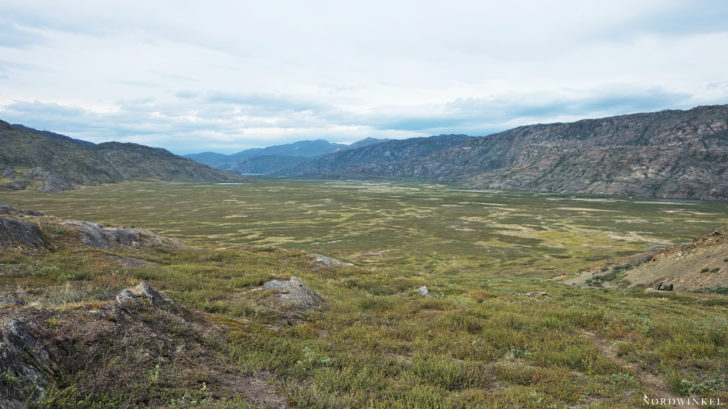 After relaxed hiking on a plateau, we came to a descent with a wonderful view over green land in Greenland. The valley looks really great from above. And we didn't know yet, that this stage would be one of the hardest on the whole Arctic Circle Trail. Inside the valley a quite big river flows. After rainy days and during the snowmelt it can be dangerous to impossible to cross the river. So there were build a bridge. But the bridge is not at the place where you ford the river. At the beginning of the valley we found a sign, that shows the direction of the bridge.
At the end, we crossed nearly the whole valley by searching the bridge. We found it after three kilometers hiking through crawling willows, a lot of mud and the constant consern to meet a herd of bad-tempered musk oxen. This episode cost us almost three hours. When we arrived in the next hut, we found a guestbook, with a lot of entries concerning the bridge. These entries ranged from constructive suggestions to make the bridge visible to evil hate speech. So we realized it wasn't our fault. Normally the guide books for the trail warn against taking the bridge. But not the german one we had used.
Next time on the trail we will take the risk of wet feet. The path after the ford is easy and nice hiking, some people told us… And they had a nice view over the green land in Greenland until they arrived at the hut.
Further links
Do you want to see more of my pictures from hiking the Arctic Circle Trail? Click here.
You want more information about the Arctic Circle Trail? Click here.
Deutsche Version
Nach einer entspannten Wanderung auf einem Plateau kamen wir zu einem Abstieg mit einer wunderbaren Aussicht über das grüne Land in Grönland. Das Tal sieht von oben wirklich toll aus. Und wir wussten noch nicht, dass diese Etappe eine der härtesten auf dem gesamten Arctic Circle Trail sein würde. Im Inneren des Tals fließt ein ziemlich großer Fluss. Nach Regentagen und während der Schneeschmelze kann es gefährlich bis unmöglich sein, den Fluss zu überqueren. Deshalb wurde eine Brücke gebaut. Allerdings befindet sich die Brücke nicht an der Stelle, an der man den Fluss überquert. Am Anfang des Tales fanden wir noch ein Schild, das die Richtung der Brücke anzeigt.
Am Ende durchquerten wir fast das ganze Tal, auf der Suche nach der Brücke. Wir fanden sie nach drei Kilometern Wanderung durch zähe Kriechweiden, viel Matsch und der ständigen Sorge, auf eine Herde schlecht gelaunter Moschusochsen zu treffen. Dieser Vorfall kostete uns fast drei Stunden. Als wir in der nächsten Hütte ankamen, fanden wir ein Gästebuch mit vielen Einträgen über die Brücke. Diese Einträge reichten von konstruktiven Vorschlägen, um die Brücke sichtbar zu machen, bis hin zu wüsten Schimpftiraden. So wurde uns klar, dass es nicht unser Fehler war. Normalerweise warnen die Reiseführer für den Trail davor, die Brücke zu nehmen. Aber nicht der Deutsche, den wir benutzten.
Wenn wir das nächste Mal auf dem Trail unterwegs sind, werden wir das Risiko nasser Füße eingehen. Der Weg nach der Furt ist leicht und schön zu wandern, sagten uns einige Leute… Und sie hatten eine schöne Aussicht über das grüne Land in Grönland, bis sie bei der Hütte ankamen.
Weiterführende Links
Möchtest du weitere meiner Bilder vom Arctic Circle Trail sehen? Klicke hier.
Willst du den gesamten Bericht zur Wanderung auf dem Arctic Circle Trail lesen? Klicke hier.
Wenn du weitere Informationen zum Arctic Circle Trail suchst, klicke hier.