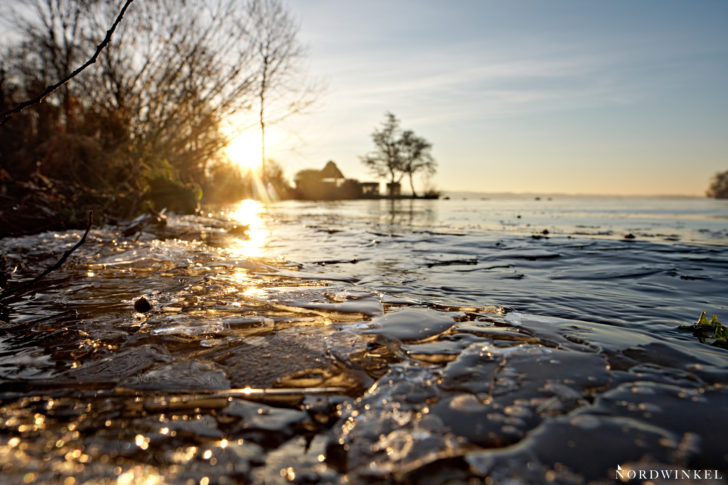 Ice on the big lake in Plön on a really cold and freezy morning. For a long time I had lost sight of the place from a photographic perspective. Completely wrong in my opinion. Together with a good photographer buddy we went to Prinzeninsel in February last year. The conditions were almost ideal. Especially the ice on the lake gave a wonderful variety of structures. When the sun finally climbed over the horizon, the small ice floes reflected the sunlight in a variety of ways that I had rarely seen before. The moment itself did not last too long, as the sun quickly thawed the ice. That was a little bit a pity, but we had a lot of fun and some good pictures.
Ten days later I was at exactly the same place to take pictures. Instead of a winter jacket, gloves and woollen socks, a sweater was sufficient as clothing. Within ten days the weather changed from a period of constant frost to +20°C.
Click here to find more pictures of the Prinzeninsel.
Click here for further information of the area Prinzeninsel and the recreation area Holsteinische Schweiz.
Deutsche Version
Eis auf dem großen Plöner See an einem richtig kalten und eisigen Morgen. Lange hatte ich den Ort aus dem fotografischen Blick verloren. Völlig zu unrecht wie ich finde. Zusammen mit einem guten Fotografenkumpel machten wir uns im Februar des vergangenen Jahres also mal wieder auf den Weg zur Prinzeninsel. Die Bedingungen waren nahezu ideal. Besonders das Eis auf dem See ergab dabei eine wundervolle Vielfalt an Strukturen. Als später schließlich die Sonne über den Horizont kletterte, reflektierten die kleinen Eisschollen das Sonnenlicht in einer Mannigfaltigkeit, die ich so bisher nur selten zu sehen bekam. Der Moment selbst dauerte nicht allzu lang, da die Sonne recht schnell dafür sorgte, dass das Eis auftaute. Das war zwar schon ein wenig schade, dennoch hatten wir auf jeden Fall unseren Spaß und das ein oder andere gute Bild im Kasten.
Spannenderweise war ich zehn Tage später an genau der gleichen Stelle zum fotografieren. Statt Winterjacke, Handschuhen und Wollsocken reichte als Bekleidung ein Pullover. Innerhalb von zehn Tagen schwang das Wetter von Dauerfrost auf +20°C um.
Klicke hier für weitere Bilder von der Prinzeninsel in Plön.
Klicke hier für weitere Informationen zum Gebiet um die Prinzeninsel und das Erholungsgebiet Holsteinische Schweiz.