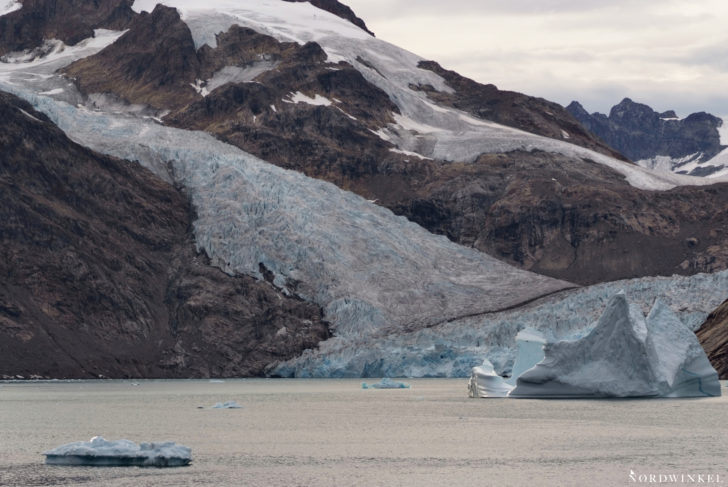 To see a lot of beautiful icebergs in Eastgreenland it would be necessary to have a captain on board, who is well experienced in sailing through arctic waters. We had this luck in 2016. We sailed deep into a big fjordsystem with the difficult name Kangertigtivatsiaq. A lot of big glaciers calve directly into the sea. So we saw many wonderful sculptures made of ice. I don't know if it was a coincidence, but we watched a high number of iceberg made with deep blue ice. These kind of ice has a age of many hundred years. The blue colour of the ice is caused by enormous pressure. A countless number of layers of snow create a heavy weight, that forces the air out of the frozen water.
After a long journey from the icecap, these blocks came down from glaciers like this one in the background. Our geologist guide estimated the age of the ice to be about 4000 – 5000 years. When these icebergs in Eastgreenland fell from the sky as snow, the Egyptians were building the pyramids. After a Zodiacruise one of the guides fished a small block of ice out of the water. So every passenger was invited to have a drink with 5.000 years old ice. An incredible pleasure.
You wanna see more of my icebergs-pictures? Click here.
You wanna know more about traveling at the greenlandic eastcoast? Click here.
Deutsche Version
Um viele schöne Eisberge in Ostgrönland zu sehen, ist es notwendig, einen Kapitän an Bord zu haben, der im Segeln durch arktische Gewässer sehr erfahren ist. Dieses Glück hatten wir 2016. Wir segelten tief in ein großes Fjordsystem mit dem schwierigen Namen Kangertigtivatsiaq. Viele große Gletscher kalben dort direkt ins Meer. So sahen wir viele wunderbare Skulpturen aus Eis. Ich weiß nicht, ob es ein Zufall war, aber wir sahen eine hohe Anzahl an Eisbergen aus tiefblauem Eis. Diese Art von Eis hat ein Alter von vielen hundert Jahren. Die blaue Farbe des Eises wird durch enormen Druck verursacht. Unzählige Schneeschichten bilden ein schweres Gewicht, das die Luft aus dem gefrorenen Wasser verdrängt.
Nach einer langen Reise von der Eiskappe kamen diese Blöcke von Gletschern wie diesem im Hintergrund herunter. Unser Geologenführer schätzte das Alter des Eises auf etwa 4000 – 5000 Jahre. Als diese Eisberge in Ostgrönland als Schnee vom Himmel fielen, bauten die Ägypter gerade die Pyramiden. Nach einer Zodiatour fischte einer der Guides einen kleinen Eisblock aus dem Wasser. So wurde jeder Passagier zu einem Drink mit 5.000 Jahre altem Eis eingeladen. Ein großartiges Erlebnis.
Möchtest du mehr von meinen Eisbergbildern sehen? Klick hier.
Willst du mehr über das Reisen an der grönländischen Ostküste erfahren? Klick hier.
Wenn du erfahren willst, was ich auf der Reise an der Ostküste Grönlands noch alles erlebte, klicke hier.