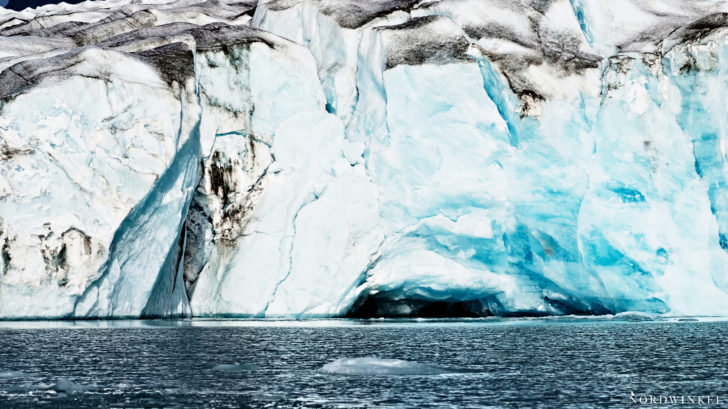 At the eastcoast of Greenland I took a picture of this icecave inside Fridtjof-Nansen-Fjord. The whole day one highlight chased the next. In the morning we were sailing into the really wonderful fjord with a lot of icebergs, which looked like an exhibition of ice sculptures. The wheather was absolutely perfect. We had a lot of sun and a magnificent blue sky. The expeditionleader told us, inside the fjord the chance to observe polarbears is very high. And really, we saw four of them in a small tributary of the fjord. To observe the king of the arctic in his natural habitat is hardly to describe. An remarkable experience, I will never forget.
Because we didn't want to disturb the bears too long, we made an extended Zodiac-tour. On this tour, we also passed this icecave. The entire glacier wall must have been about 50-60 meters high. At the cave, the pressure of the ice is extremly high. We could hear the cracking and crushing of the ice. In order to get a better impression, our Zodiacdrivers stopped the engine. An almost surreal and indescribable feeling, complemented by the incredible colours of the ice, which shone through the sun in various shades of blue and turquoise.
The whole day was absolutely incredible because of the sailing through the icefield, the polarbears and the icecave inside Fridtjof-Nansen-Fjord. But that wasn't all. That night we saw northern lights. So strong that they bathed the entire area in green light. A day, I will never forget in my life.
Click here to see more of my pictures from Eastgreenland.
Click here to get more informations about traveling at the greenlandic eastcoast.
Deutsche Version
An der Ostküste Grönlands fotografierte ich diese Eishöhle im Fridtjof-Nansen-Fjord. Den ganzen Tag jagte ein Höhepunkt den nächsten. Am Morgen fuhren wir in den wirklich wunderschönen Fjord mit vielen Eisbergen, der wie eine Ausstellung von Eisskulpturen wirkte. Das Wetter war absolut perfekt. Wir hatten viel Sonne und einen herrlich blauen Himmel. Der Expeditionsleiter erzählte uns, im Fjord sei die Chance, Eisbären zu beobachten, sehr groß. Und wirklich, wir sahen vier von ihnen in einem kleinen Nebenarm des Fjordes. Den König der Arktis in seinem natürlichen Lebensraum zu beobachten, ist kaum zu beschreiben. Ein bemerkenswertes Erlebnis, das ich nie vergessen werde.
Da wir die Bären nicht allzu lange stören wollten, machten wir eine ausgedehnte Zodiac-Tour. Auf dieser Tour kamen wir auch an dieser Eishöhle vorbei. Die gesamte Gletscherwand muss etwa 50-60 Meter hoch gewesen sein. In der Höhle ist der Druck des Eises extrem hoch. Wir konnten das Knacken und Kracehn des Eises hören. Um einen besseren Eindruck zu bekommen, haben unsere Zodiacfahrer den Motor abgestellt. Ein fast surreales und unbeschreibliches Gefühl, ergänzt durch die unglaublichen Farben des Eises, das, angestrahlt durch die Sonne, in den verschiedensten Blau- und Türkistönen leuchtete.
Der ganze Tag war wegen der Fahrt durch das Eisfeld, die Eisbären und die Eishöhle im Fridtjof-Nansen-Fjord absolut unglaublich. Aber das war noch nicht alles. In dieser Nacht sahen wir Nordlichter. So stark, dass sie die gesamte Szenerie in grünes Licht tauchten. Ein Tag, den ich mit Sicherheit in meinem Leben nie vergessen werde.
Klicke hier um weitere meiner Bilder aus Ostgrönland zu sehen, klicke hier für den kompletten Reisebericht zu meiner Tour an der Ostküste 2016.
Klicke hier um weitere Informationen über das Reisen an der grönländischen Ostküste zu bekommen.