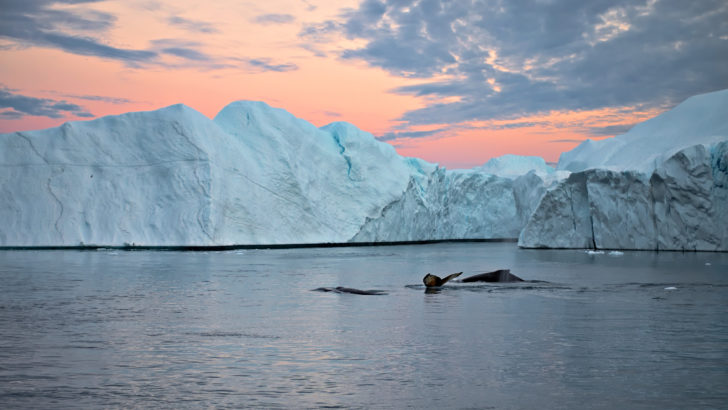 When I spend some time in Fulda on my way back from Bavaria to Kiel, I was wondering, why the memorycard in the camera had such less of empty space. Than I realized, that there were some pictures from Greenland last year. I forgot this pictures on the card for more than a year.
This one of these pictures. Taken on the boattrip in Ilulissat. We enjoyed a wonderful sunset and at least, we saw a pod of humpback whales. One of these "once-in-a-lifetime-moments" I had a lot in Greenland. Even on my third visit.
Als ich auf dem Rückweg aus den bayrischen Alpen in Fulda Station machte, wunderte ich mich doch ziemlich, weshalb auf der neuen Speicherkarte der Kamera nur verhältnismäßig wenig Speicherplatz vorhanden war. Als ich die Wiedergabefunktion der Kamera betätigte, fand ich eine ganze Reihe von Bildern aus Grönland aus dem vergangenen Jahr. Diese hatte ich schlicht völlig vergessen und seit der Aufnahme nicht mehr daran gedacht, dass sie sich noch auf einer Speicherkarte befinden.
Hier ist nun eines der Bilder. Entstanden auf meiner Bootsfahrt in Ilulissat am letzten Abend. Der Sonnenuntergang selbst konnte sich ja bereits wirklich sehen lassen. Als dann aber auch noch Buckelwale ausgesprochen dicht am Boot auftauchten, war das ein Abschiedsgruß, den ich mir nicht besser hätte wünschen können. Einmalige und unvergessliche Momente, die ich auch bei meinem dritten Besuch in Grönland nahezu jeden Tag erlebte.