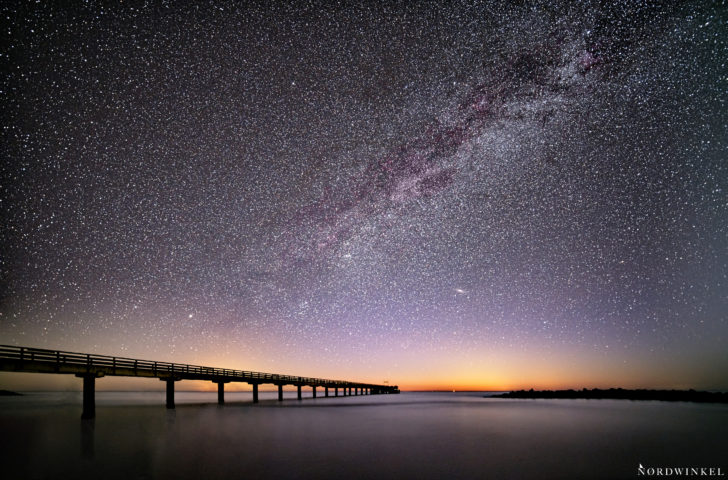 Last year I had already the idea, to take pictures of the Milky Way over Schönberg at the baltic sea. But my first steps into the astrophotography brought no pictures that were it worth to show. So read a lot, talked to other photographers and buy a new lens. But it still took two or three new attempts before this picture was taken. But now, I'm largely satisfied.
The conditions in this night were nearly perfect. No clouds, no moon and no wind. The last point is not important for the picture, but for the photographer. And in Schönberg are no lights at the beach during the night. So there were no light polution. The light on the horizon were the first signs of the upcoming dawn.
In retrospective the astrophotography will probably not be my new passion. The silence and the magical nightsky are absolutely awesome. But to take a picture like this, I had to work more time at the computer than on the spot. I took at least 20 pictures, which superimposed a software and calculated together. So it was more the computer, who made this picture. I was only standing in the night at the beach, get frozen and operated the software. But for a sleepless night, it could be an alternative to take pictures of the Milky Way over Schönberg.:)
Click here to find the website, which helped me gain a foothold in astrophotography (sry, this website is only in german).
Click here to find more pictures from me of the beautiful Schleswig-Holstein.
Deutsche Version
Schon letztes Jahr hatte ich die Idee, die Milchstraße über Schönberg an der Ostsee zu fotografieren. Doch meine ersten Schritte in der Astrofotografie brachten keine Bilder, die es wert waren, gezeigt zu werden. Also habe ich viel gelesen, mich mit anderen Fotografen unterhalten und mir ein neues Objektiv gekauft. Aber es brauchte noch zwei, drei neue Versuche, bis dieses Bild entstand. Damit bin ich nun aber weitgehend zufrieden.
Die Bedingungen in dieser Nacht waren nahezu perfekt. Keine Wolken, kein Mond und kein Wind. Der letzte Punkt ist zwar nicht für das Bild wichtig, aber für den Fotografen Ohne Wind hält man es nachts am Strand einfach länger aus. In Schönberg leuchten in der Nacht keine Lichter am Strand. Das bedeutet, dass es kaum Lichtverschmutzung gibt. Das Licht, das man am Horizont erkennt, ist das erste Anzeichen für die bevorstehende Morgendämmerung.
Im Rückblick wird die Astrofotografie jedoch vermutlich nicht meine neue Leidenschaft werden. Die Stille und der magische Nachthimmel sind zwar absolut fantastisch. Aber um ein Bild wie dieses zu machen, musste ich mehr Zeit am Computer verbringen als vor Ort. Ich habe mindestens 20 Bilder gemacht, die eine Software überlagerte und gemeinsam berechnete. Es war also eher der Computer, der dieses Bild gemacht hat. Denn ich stand nur in der Nacht am Strand, fror und bediente anschließend zuhause die Software. Aber für schlaflose Nächte könnte die Astrofotografie eine Alternative sein.:)
Klicke hier um zur Webseite zu gelangen, die mir dabei half, in der Astrofotografie Fuß zu fassen.
Klicke hier für weitere meiner Bilder aus dem wunderschönen Schleswig-Holstein.