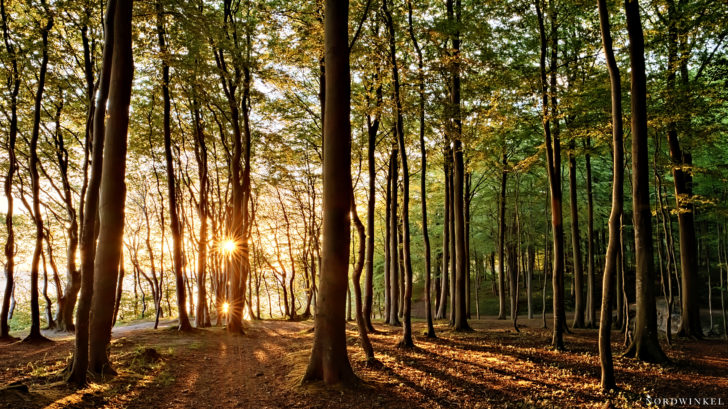 Several times I got to this spot, but it needed a lot of years, until I got the idea to take some pictures of the morning in the forest. When I checked the wheatherforecast the conditions didn't look very well. There should be a lot of thick clouds in the sky. As I arrived at four o'clock in the morning I saw just a few clouds and a wonderfuly shining sky. My anticipation rose and the sunset itself was absolutely beautiful. I will publish more pictures of this morning soon.
On the way back from my actual spot, I had to walk through this part of the forest. I was often here, but didn't have an idea, how to take nice pictures of this place. But with the golden sunlight between the newly greened trees, I wanted to try something. Because of the reflection of the sun in the Baltic Sea, there are two aperture stars. When I checked the pictures on the screen of the camera, I was speechless.
It only took me five minutes and no big thinking, to catch these awesome scenery. For years I couldn't imagine, that it would be possible to take a picture, that can transmit the atmosphere of this very unique place. But I'm sure, this picture of a morning in the forest can. And for me, I took home the knowledge, that sometimes it will be better, to make and not to think too much.
You want to see more of my sunrisepictures? Click here.
You want to get more information about the the place? Click here.
Deutsche Version
Mehrmals kam ich an diese Stelle, aber es dauerte viele Jahre, bis ich auf die Idee kam, einige Bilder vom Morgen im Wald zu machen. Als ich die Wettervorhersage prüfte, sahen die Bedingungen nicht sehr gut aus. Es sollten viele dicke Wolken am Himmel sein. Als ich um vier Uhr morgens ankam, sah ich nur ein paar Wolken und einen wunderbar strahlenden Himmel. Meine Vorfreude stieg, und der Sonnenuntergang selbst war absolut wunderschön. Ich werde demnächst weitere Bilder von diesem Morgen veröffentlichen.
Auf dem Rückweg von meinem eigentlichen Platz musste ich durch diesen Teil des Waldes laufen. Ich war oft hier, hatte aber keine Ahnung, wie man diesen Ort schön fotografieren könnte. Aber mit dem goldenen Sonnenlicht zwischen den neu begrünten Bäumen wollte ich etwas ausprobieren. Wegen der Spiegelung der Sonne in der Ostsee gibt es zwei Blendensterne. Als ich mir die Bilder auf dem Bildschirm der Kamera ansah, war ich sprachlos. Ich brauchte nur fünf Minuten und kein großes Nachdenken, um diese fantastische Szenerie einzufangen. Jahrelang konnte ich mir nicht vorstellen, dass es möglich sein würde, ein Bild zu machen, das die Atmosphäre dieses einzigartigen Ortes wiedergeben kann. Aber ich bin sicher, dieses Bild kann es. Und für mich nahm ich das Wissen mit nach Hause, dass es manchmal besser ist, etwas zu machen und nicht zu viel zu denken.
Möchtest du weitere Sonnenaufgangsbilder von mir sehen? Klicke hier.
Möchtest du weitere Informationen zu der Gegend, in der das Foto entstand? Klicke hier.