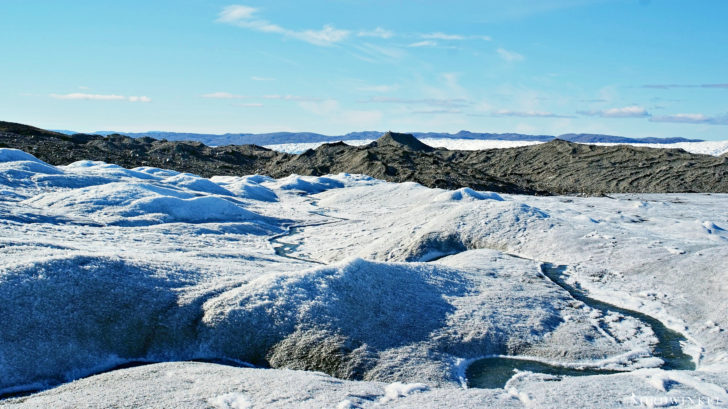 To get an overview of the Greenlandic Icecap, most tourists use the bustours in Kangerlussuaq, like we did. The longest road in Greenland leads about ca. 40km from the Airport to the beginning of the icecap. There we were allowed to explore the first foothills of ice on our own. To step over this incredible scenery was unbelievable. It didn't take more than five or ten minutes to get the feeling to be completely alone in the world. Fortunately I had some people in sight, so I knew, that I wouldn't get lost.
The small river in the picture was also really spectacular. If you were close enough, it was possible to hear the sound of the clashing of the ice, that the stream took with it. A wonderful kind of music, like a delicate carillon. Absolutely fascinating. In this moment, the idea was born in my mind, that one day, I want to try to cross the icecap from the west to the east. I don't know, if I'm gonna make it, but I'm not gonna stop trying.
Click here, to get informations about guided trips from Kangerlussuaq to an overview of the Greenlandic Icecap like in the picture.
Click here, to find more of my pictures from the biggest and the most beautiful island in the world.
Deutsche Version
Um sich einen Überblick über das grönländische Inlandeis zu verschaffen, nutzen die meisten Touristen die Bustouren in Kangerlussuaq, so wie wir es getan haben. Die längste Straße in Grönland führt über ca. 40km vom Flughafen zum Beginn der Eiskappe. Dort durften wir die ersten Ausläufer des Eises auf eigene Faust erkunden. Es war unglaublich, diese atemberaubende Kulisse zu betreten. Es dauerte nicht mehr als fünf oder zehn Minuten, um das Gefühl zu bekommen, völlig allein auf der Welt zu sein. Zum Glück hatte ich einige Leute in Sichtweite, so dass ich wusste, dass ich mich nicht verlaufen würde.
Auch der kleine Fluss im Bild war wirklich spektakulär. Wenn man nahe genug dran war, konnte man das Geräusch des Aufpralls des Eises hören, das der Fluss mit sich nahm. Eine wunderbare Art von Musik, wie ein zartes Glockenspiel. Absolut faszinierend. In diesem Moment entstand in meinem Kopf die Idee, dass ich eines Tages versuchen möchte, die Eiskappe von Westen nach Osten zu überqueren. Ich weiß nicht, ob ich es schaffe, aber ich werde nicht aufhören, es zu versuchen.
Klicke hier, um Informationen zu geführten Touren von Kangerlussuaq zum Inlandseis zu erhalten.
Klicke hier, um mehr von meinen Bildern von der größten und schönsten Insel der Welt zu finden. Und klicke hier, um zum gesamten Bericht zum Besuch des Inlandseises zu kommen.