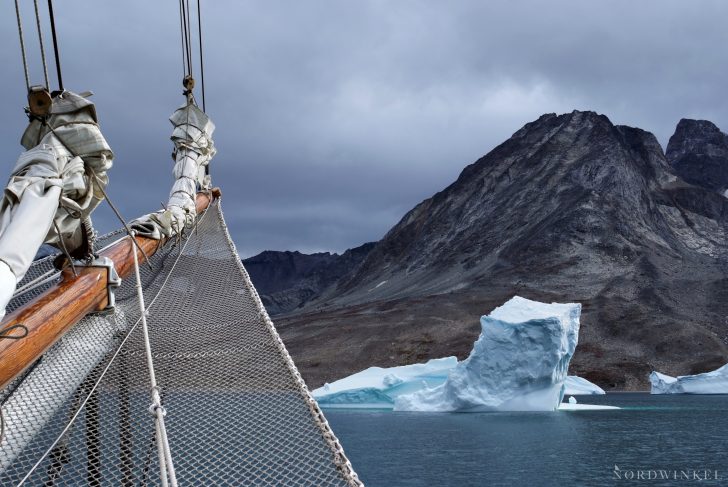 Eine Aufnahme der Rembrandt van Rijn im Kangertigtivatsiaqfjord, Ostgrönland. Das Fjordsystem ist ziemlich groß und verzweigt, typisch für die Ostküste Grönlands. Die Fjorde entstanden durch Gletscher, die die Landschaft nachhaltig formten. Die Ruhe der Aufnahme täuscht über die tatsächlichen Wetterbedingungen hinweg. Denn während wir geschützt im Fjord vor Anker lagen, tobte auf der offenen See ein schwerer Sturm. Die Windgeschwindigkeiten erreichten in der Spitze zwischen 70 und 80kn. Was dies für die See bedeutete, erfuhren wir am nächsten Tag.
Am nächsten Tag unternahm unser wagemutiger Kapitän den Versuch, weiter nach Norden zu kommen. Dies scheiterte aber da der Wind sich nicht abschwächte. Er wütete weiter aus nördlicher Richtung. Dadurch kam unser Schiff so gut wie nicht vorwärts. Ganz im Gegenteil: der Wind trieb uns weiter zurück. So fiel die Entscheidung, einen weiteren Tag mit der Rembrandt im Kangertigtivatsiaqfjord vor Anker zu gehen und "abzuwettern". Dies führte unter einem Großteil der Passagiere zu erleichterten Ausrufen. Als wir nach etwa drei Stunden schwerem Seegang wieder in den Schutz des Fjords kamen und sich die Schiffsbewegungen beruhigten, verschwanden bei vielen die Symptome der Seekrankheit.
Klicke hier, um weitere meiner Bilder des Segelschiffs Rembrandt van Rijn zu finden.
Für eine Weiterleitung zum kompletten Reisebericht zu meiner Tour 2016 an der Ostküste, klicke hier.
Klicke hier, für weitere Informationen zum Schiff und zu Reisen an der Ostküste Grönlands.
English Version
A picture of the Rembrandt van Rijn in Kangertigtivatsiaqfjord, East Greenland. The fjord system is quite large and branched, typical for the east coast of Greenland.The fjords were created by glaciers, which shaped the landscape in a sustainable way. The tranquility of the recording is deceptive of the actual weather conditions. While we were anchored in the fjord, a heavy storm was raging on the open sea. The wind speeds reached between 70 and 80kn in the peak. What this meant for the sea, we learned the next day.
The next day our daring captain made an attempt to get further north. But this failed because the wind did not weaken. He raged on from the north. This caused our ship to make almost no headway. On the contrary: the wind drove us further back. So the decision was made to anchor another day with the Rembrandt in the Kangertigtivatsiaqfjord and "weather out". This led to easier proclamations among the majority of passengers. When we returned to the shelter of the fjord after about three hours of heavy swell and the ship's movements calmed down, the symptoms of seasickness disappeared for many of us.
Click here to find more of my pictures of the sailing vessel Rembrandt van Rijn.
Click here for more information about the ship and travelling on the east coast of Greenland.