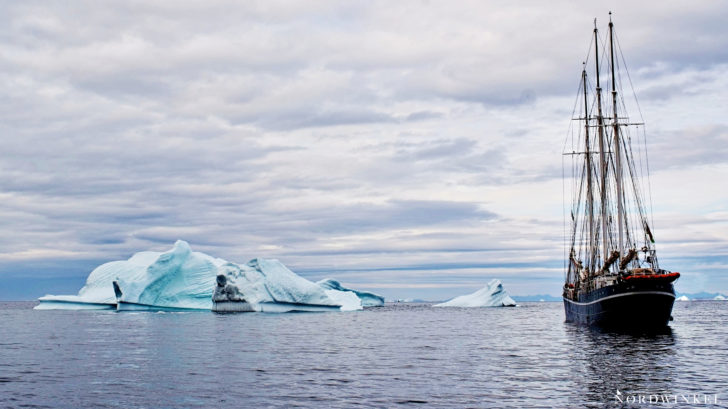 Travelling on a sailing vessel in the ice transmit a wonderful impression and the feeling of adventure. This feeling led people 100 years ago to push the limits of what was possible in exploring the high arctic. I am so grateful, to sail with the sailing vessel Rembrandt van Rijn on the greenlandic coast. I saw a lot of small settlements, which have their own rhythm. Despite the advancing development, it is possible to get intouch with the traditional greenlandic way of living in the arctic.
The picture shows our anchorplace in front of the small settelment Niaqornat. During a shore leave we got into conversation with a Greenlander. He told us, that he is responsible for power supply. But he was also a successful hunter and fisherman. He showed us a club of a reindeer, which he shot the day before we arrived. And he also showed us proud the bones of various whales he catch in last autumn. With this catch the whole settlement could live in abundance for a long time. Although there is a supermarket even in this small settlement, the inhabitants of Niaqornat appreciate self-sufficiency.
Overthinking opinion of greenlandic whaling
This attitude in turn led me to reconsider my position on whaling. The whaling of the Greenlanders has certainly not brought the animal population to the brink of extinction. Even today they catch and hunt no more than they need. And even today they still see the catch of a whale as a gift from nature. In Greenland it is impossible to live against the nature and this realization impressed me deeply. Sailing with a sailing vessel in the ice underlined this insight many times over.
You want more information about Niaqornat? Click here.
You want to see more pictures of the sailing vessel in the ice? Click here.
Deutsche Version
Eine Reise auf einem Segelschiff durch Eis vermittelt einen wunderbaren Eindruck und das Gefühl eines Abenteuers. Dieses Gefühl führte die Menschen vor 100 Jahren an die Grenzen des Möglichen bei der Erforschung der Arktis. Ich bin so dankbar, dass ich die Möglichkeit bekam, mit dem Segelschiff Rembrandt van Rijn an der grönländischen Küste zu segeln. Ich sah viele kleine Siedlungen, die ihren eigenen Rhythmus haben. Trotz der fortschreitenden Entwicklung ist es möglich, mit der traditionellen grönländischen Art des Lebens in der Arktis in Berührung zu kommen.
Das Bild zeigt unseren Ankerplatz vor der kleinen Siedlung Niaqornat. Bei einem Landgang kamen wir mit einem Grönländer ins Gespräch. Er sagte uns, dass er für die Stromversorgung zuständig ist. Gleichzeitig ist er aber auch ein erfolgreicher Jäger und Fischer. Er zeigte uns eine frische Rentierkeule, welches er am Tag vor unserer Ankunft erlegte. Und er zeigte uns auch stolz die Knochen verschiedener Wale. Diese hatte er im vergangenen Herbst gefangen. Mit diesem Fang konnte die ganze Siedlung lange Zeit im Überfluss leben. Denn obwohl es selbst in dieser kleinen Siedlung einen Supermarkt gibt, schätzen die Bewohner von Niaqornat die Selbstversorgung.
Überdenken der Meinung zum grönländischen Walfang
Diese Haltung wiederum veranlasste mich dazu, meine Position zum Walfang zu überdenken. Der Walfang der Grönländer hat die Tierpopulation mit Sicherheit nicht an den Rand des Aussterbens gebracht. Auch heute noch fangen und jagen sie nicht mehr, als sie brauchen. Und auch heute noch sehen sie den Fang eines Wals als ein Geschenk der Natur an. In Grönland ist es unmöglich, gegen die Natur zu leben. Diese Erkenntnis hat mich tief beeindruckt. Das Segeln mit einem Segelschiff durch das Eis hat diese Einsicht noch um ein Vielfaches unterstrichen.
Möchtest du weitere Informationen zu Niaqornat? Klicke hier.
Möchtest du weitere Bilder der Rembrandt van Rijn sehen? Klicke hier.