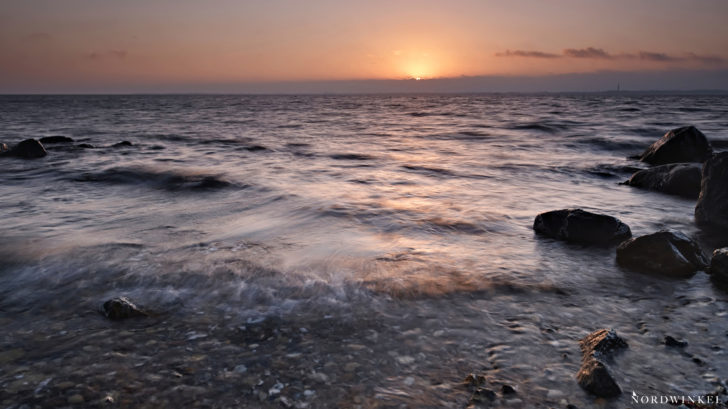 Strande Sunrise I
After many days without any single sunbeam, the weatherforecast for Strande (a small village near Kiel) looks pretty good to catch the sunrise. So I decided to take the chance.
When I arrived, a thick layer of clouds hung in the sky. Just for moments the moon enlighted the whole scenery. In the dark I realized, that I had forgotten my headlight. So I tried to find a nice spot without any light, climbing over rocks. Finally I found a place, but then I had to manage another problem: I bought a new tripod and had no experience, how to handle it, especially in the dark. And after all, there was a strong and chill wind, that froze my hands, my feets and my nose.
After one hour the clouds were gone, like I read in the forecast. But a small layer of clouds stayed on the horizon. Just there, where the sun rised up… At least I could try my new filter system. This picture is one of the results.
And although the start of the day was ill-omened, I was happy to get out to the sea. To stand in front of the restless water while the rest of the world slowly started into the day, is one of the reasons, why I like to take pictures at sunrise.
Deutsche Version
Nach zu vielen Tagen ohne einen gefühlten Sonnenstrahl, sah der Wetterbericht für Strande endlich mal wieder recht gut aus für einen Sonnenaufgang. Also entschied ich mich, die Chance zu nutzen.
Als ich ankam, hing aber zunächst eine dicke Schicht Wolken am Himmel. Der Mond schaffte es lediglich nur sehr kurz mal durchzubrechen. In der Dunkelheit bemerkte ich dann, dass ich meine Stirnlampe vergaß. Also musste ich, über Steinblöcke kletternd, versuchen ohne Licht einen schönen Spot zu finden. Nachdem dies vollbracht war, stand ich vor einem anderen Problem: Ich hatte ein neues Stativ dabei, bei dem mir die Erfahrung in der Bedienung fehlte. Erst recht in der völligen Dunkelheit. Und um es zu kompletieren frischte der Wind ordentlich auf, so dass er Hände, Füße und Nase einfror.
Nach einer guten Stunde verzogen sich die Wolken, wie im Wetterbericht angekündigt. Bis auf eine Schicht am Horizont, die genau da hängen blieb, wo die Sonne über den Horizont kommen sollte… Immerhin konnte ich wenigstens mein neues Filtersystem ausprobieren. Das Foto ist ein erstes Ergebnis damit.
Und auch wenn der Start in den Tag vielleicht nicht unter den besten Vorzeichen stand, war ich doch sehr froh mal wieder am Meer zu sein. Vor dem ruhelosen Wasser zu stehen, während der Rest der Welt langsam erwacht, ist einer der Gründe, weshalb ich das Fotografieren zum Sonnenaufgang so gern mag.