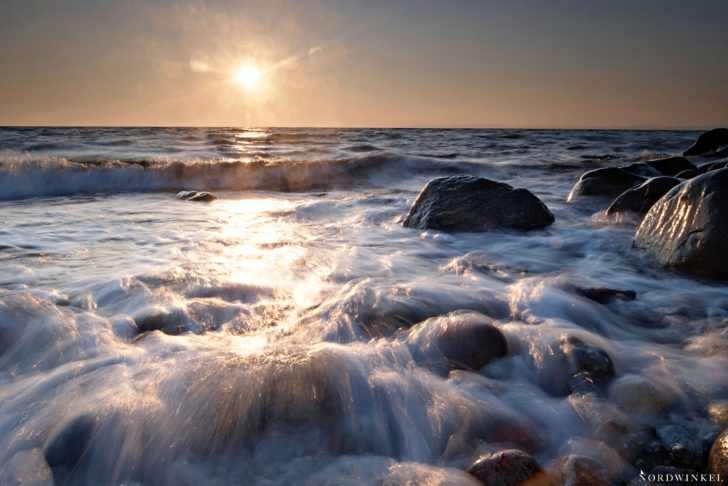 The second time, I went to Langholz to take pictures of the sunrise at the beach. The conditions were really amazing and this time there were no layers of clouds on the horizon. Additionally the baltic sea was moving much more than on my first visit. So I took the chance to make pictures of the water splashing over the stones.
But the main reason, why I came there, was to shoot the milky way over the baltic sea. The conditions should be really good. Everything was perfect, except my skills. I know, that there is a lot of postproduction necessary, but no matter what I did, the result of my pictures of the milky way are not presentable. But I think, pictures like this one are a good compensation. Sunrise at the beach is every time fascinating for me. And now I have to read and learn more about the image editing of milky way pictures. Or is someone reading this words and can help me with editing with RAWTherapee and Gimp? If that is the case, please contact me.
Click here, if you want to get more information about the village Langholz.
Click here, if you want to find more pictures the baltic sea.
Deutsche Version
Das zweite Mal, das ich nach Langholz fuhr, um den Sonnenaufgang am Strand zu fotografieren. Die Bedingungen waren wirklich großartig, und dieses Mal gab es auch keine Wolkenschichten am Horizont. Außerdem bewegte sich die Ostsee viel mehr als bei meinem ersten Besuch. Also nutzte ich die Gelegenheit, um Bilder vom Wasser zu machen, das über die Steine rauscht.
Aber der eigentliche Hauptgrund, warum ich dorthin gekommen bin, war, die Milchstraße über der Ostsee zu knippsen. Die Bedingungen dafür sollten wirklich gut sein. Alles war perfekt, bis auf meine Fähigkeiten. Ich weiß, dass eine Menge Nachbearbeitung notwendig ist, aber egal, was ich gemacht habe, die Ergebnisse meiner Bilder von der Milchstraße sind nicht wirklich vorzeigbar. Aber ich denke, Bilder wie dieses hier sind ein guter Ausgleich. Und ich werde jetzt erstmal mehr über die Bildbearbeitung von Milchstraßenbildern lesen und lernen. Oder liest hier jemand mit und kann mir bei der Bearbeitung mit RAWTherapee und Gimp helfen? Wenn das der Fall ist, kontaktiert mich bitte.
Klick hier, für mehr Informationen über das Dorf Langholz.
Klick hier, um weitere Bilder von mir von der Ostsee zu sehen.