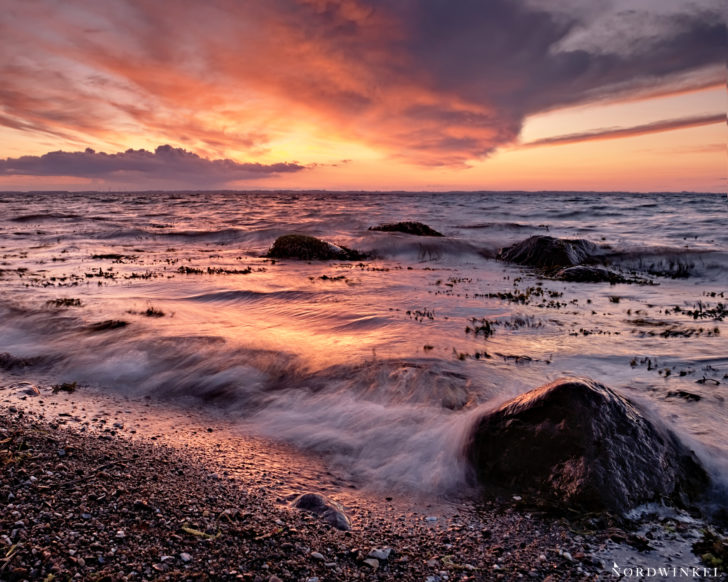 It was not my first sunset in Dänisch-Nienhof, but this one was very special. Thick clouds hung in the sky all day. So it didn't look very promising for a beautiful sunset. However, my weather app indicated that it should clear up towards the evening. So I decided to grab my camera bag and to try my luck. As I arrived at the beach in Dänisch-Nienhof the sun breaks through the layers of clouds. But on the horizon I realised another band of clouds, right there, where the sun will go down. Nevertheless, I walked through the forest on the cliff line and enjoyed the the silence and the warm light of the setting sun.
After a risky descent from the cliffs to the beach, I chose a nice spot. There I wanted to wait for the sunset and listen to the sound of the sea. The sunset itself wasn't that spectacular, I already mentioned the band of clouds at the horizon. But after the sun was gone, she illuminated the clouds from below and created an absolutely dreamlike atmosphere. The whole scenery was bathed in wonderful colours. Everything began to glow in a variety of yellow and red tones. I just sat there, amazed and occasionally pressed the shutter release of the camera. I will certainly remember this sunset in Dänisch-Nienhof for half an eternity. Everything looked so peaceful and quiet. All the trouble in these strange times felt absolutely far away. An awesome feeling.
Click here, if you also like sunsets and want so see more pictures of me.
Click here, if you want to get more informations about the beautiful coastline in Dänisch-Nienhof.
Deutsche Version
Es war nicht mein erster Sonnenuntergang in Dänisch-Nienhof, aber dieser war etwas ganz Besonderes. Den ganzen Tag hingen dicke Wolken am Himmel. Es sah dadurch also nicht sehr vielversprechend für einen schönen Sonnenuntergang aus. Meine Wetter-App zeigte jedoch an, dass es gegen Abend aufklaren sollte. Also beschloss ich, meine Kameratasche zu holen und mein Glück zu versuchen. Kaum dass ich am Strand von Dänisch-Nienhof ankam, durchbrach die Sonne die Wolkenschichten. Aber am Horizont erkannte ich ein weiteres Wolkenband, genau dort, wo die Sonne untergehen wird. Trotzdem lief ich an der Steilküste durch den Wald, genoss die Stille und das warme Licht der untergehenden Sonne.
Nach einem riskanten Abstieg von den Klippen zum Strand wählte ich einen schönen Platz. Dort wollte ich den Sonnenuntergang abwarten und dem Rauschen des Meeres lauschen. Der Sonnenuntergang selbst war nicht so spektakulär, ich erwähnte bereits das Wolkenband am Horizont. Aber nachdem die Sonne verschwunden war, beleuchtete sie die Wolken von unten und schuf eine absolut traumhafte Atmosphäre. Die ganze Szenerie war in wunderbare Farben getaucht. Alles begann in einer Vielzahl von Gelb- und Rottönen zu glühen. So saß ich einfach nur da, staunte und drückte gelegentlich auf den Auslöser der Kamera. An diesen Sonnenuntergang in Dänisch-Nienhof werde ich mich sicher noch eine halbe Ewigkeit erinnern. Alles sah so friedlich und ruhig aus. All der Ärger in diesen seltsamen Zeiten fühlte sich absolut weit weg an. Ein überwältigendes Gefühl.
Klicke hier, wenn du auch Sonnenuntergänge magst und weitere Bilder von mir sehen möchtest.
Klicke hier, wenn du weitere Informationen über die wunderschöne Küste bei Dänisch-Nienhof haben möchtest.