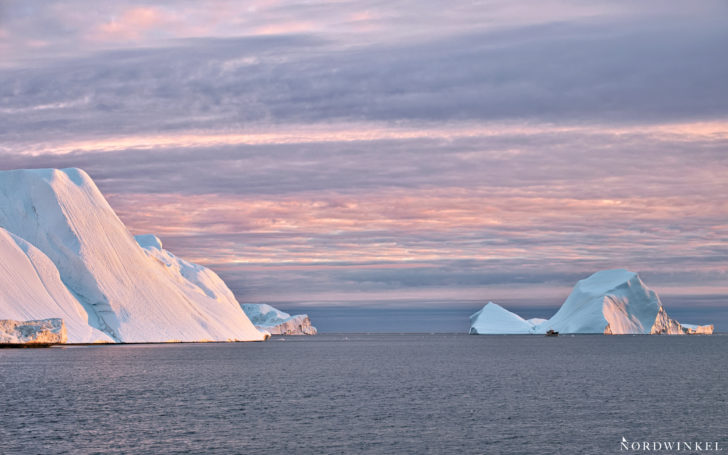 Sunset in the Ice-Fjord near Ilulissat. The colours in the sky and the illuminated ice were extremly impressive and absolutely wonderful. After the sun went down, it was getting colder and colder on the ship, but it wasn't possible to go below because of this scenery. The airstream of the boat made sure, that I was almost frozen after three hours of the boattrip. But if I take a look at the pictures and the impressions I got, I don't repent my cold nose and feets in anyway. It was it worth, for every single second.
If you follow this link, you will find more pictures of the boattrip and the sunset in the ice. (I'm sorry, but the description of the journey 2018 is only in German.)
Guide to Greenland is one of the companies, which offer those boattrips. I just can recommend it. If you get the chance, to cruise between the icebergs, do it! Best time is early in the morning or late in the evening, to catch sunrise, sunset or midnightsun.
Deutsche Version
Sonnenuntergang über dem Eisfjord bei Ilulissat. Die Farben im Himmel und das angestrahlte Eis sind einfach unglaublich schön und beeindruckend. Zwar wurde es mit dem Verschwinden der Sonne auf dem Schiff auch merklich kalt, dennoch konnte ich mich bei diesem Anblick einfach nicht lösen und unter Deck begeben. Der Fahrtwind des Bootes tat sein Übriges, so dass ich nach den 3 Stunden Bootsffahrt ordentlich durchfror. Dabei wurde ich aber mit solchen Anblicken und Fotos belohnt. Dafür lohnte sich das Bibbern und Zittern auf dem Schiff allemal.
Dieser Link führt zur Beschreibung der Bootsfahrt und zu weiteren Bildern des Sonnenuntergangs.
Guide to Greenland ist eine der Firmen, die solche Bootsfahrten anbieten. Wenn man die Chance bekommt, eine Fahrt durch die Eisberge zu machen, sollte man sie unbedingt wahrnehmen! Die beste Zeit ist früh Morgens, zum Sonnenaufgang. Oder spät Abends, zum Sonnenuntergang, so er denn stattfindet.