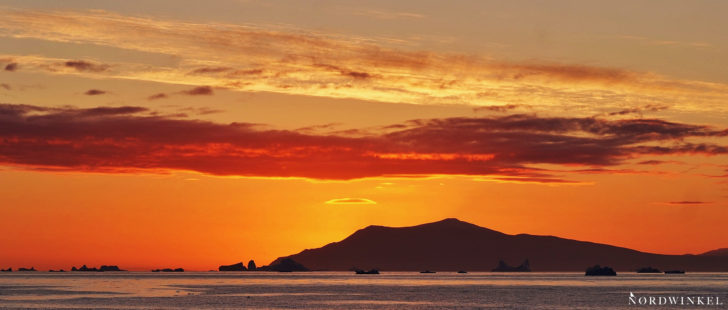 When we left the big city (in greenlandic relations) of Uummannaq, we enjoyed a sunset in Uummannaqfjord, I never see before. The whole sky was burning. Two layers of clouds hang in the fjord, and the sun illuminate them in different colours. We heard nothing else, then splashing the water to the hull of the Rembrandt. Standing in front of the ship, we couldn't even hear the sound of the engine. With a view like this another of these "once-in-a-lifetime-moment". When the sun vanished behind the horizons, it was getting really cold. But the whole scenery made it impossible, to leave the deck. I only left my place in the front of the ship, to take a hot chocolate. But in a few minutes, the drink was a ice-chocolate.
Als wir die Großstadt (Großstadt für grönländische Verhältnisse) Uummannaq verließen, kamen wir in den Genuss eines Sonnenuntergangs. Einen Sonnenuntergang dieser Intensität, sah ich noch nie zuvor. Es hingen zwei Schichten von Wolken im Uummannaqfjord. Beide wurden von der Sonne angestrahlt, was zu ungeahnten Farbspielen führte. Dazu kam, dass wir nichts weiter hörten, als das Geräusch der gegen den Schiffsrumpf schlagenden Wellen. Ganz vorn im Bug des Schiffes, hörte man nicht mal mehr die Motoren. Mit diesem Blick auf den Eingang des Uummannaqfjordes ein weiterer "Once-in-a-lifetime-moment". Als die Sonne hinter dem Horizont verschwand, kühlte die Luft sehr schnell empfindlich ab. Aber die Szenerie machte es unmöglich, sich unter Deck zu begeben. Mir zumindest. Ich verließ lediglich kurz meinen Platz im Bug des Schiffes, um mir eine heiße Schokolade zu holen. Diese wurde aber innerhalb von wenigen Minuten zu einer Eisschokolade.
Informations about Uummannaq
To read the whole story about the Impressions in Uummannaq and see more pictures of the sunset in Uummannaqfjord, follow this link. For informations about Uummannaq, take this link.
Informationen zu Uummannaq
Für die ganze Geschichte unserer Reise in den Uummannaqfjord, folge diesem Link. Für Informationen über Uummannaq, folge diesem Link.