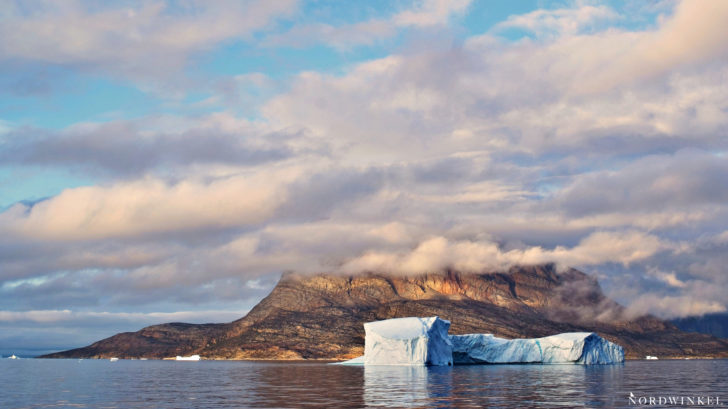 One more picture of the spectaculare sunset inside Uummannaqfjord in 2015. Current my plan to return this year to this wonderful island is very unsecure. I can't imagine, that Denmark will open the borders to Greenland for tourists this year. But I won't lost hope. And if I can't return this year, then hopefully next year. For the health and welfare of the Greenlandic population it is probably best not to let tourists back to Greenland until there is a vaccine or medicine against Covid19. But one day, that's for sure, I will see another beautiful sunset inside Uummannaqfjord.
Until this return will happen, all I can do is look at the pictures from 2015 and be happy, that I've already had the possibility to visit Uummannaq. And who knows, perhaps next year the ferry service to Uummannaq will be resumed. That was my first idea to get to Uummannaq again. Sailing with the public ferry into the beautiful fjord. But since 2020 the connection was closed. So the only way to get there, was by plane and chopper. I know there are far worse things than flying with a helicopter over a fjord, but sailing through big icebergs has its very own magic.
If you want to see more pictures of beautiful Uummannaq click here.
If you want to get more informations about this wonderful area, click here.
Deutsche Version
Noch ein Bild vom spektakulären Sonnenuntergang im Uummannaqfjord im Jahr 2015. Gegenwärtig ist mein Plan, dieses Jahr auf diese wunderbare Insel zurückzukehren, sehr unsicher. Ich kann mir nicht vorstellen, dass Dänemark in diesem Jahr die Grenzen zu Grönland für Touristen öffnen wird. Aber ich werde die Hoffnung nicht aufgeben. Und wenn ich dieses Jahr nicht zurückkehren kann, dann hoffentlich nächstes Jahr. Für die Gesundheit und das Wohlergehen der grönländischen Bevölkerung ist es aber wahrscheinlich am besten, Touristen nicht nach Grönland zu lassen, bis es einen Impfstoff oder ein Medikament gegen Covid19 gibt.
Bis zu dieser Rückkehr kann ich mir nur die Bilder von 2015 ansehen und mich darüber freuen, dass ich bereits die Möglichkeit hatte, Uummannaq zu besuchen. Und wer weiß, vielleicht wird im nächsten Jahr ja der Fährbetrieb nach Uummannaq wieder aufgenommen. Das war meine erste Idee, um wieder nach Uummannaq zu kommen – mit der Fähre in den schönen Fjord ein zu fahren. Aber seit 2020 ist die Verbindung geschlossen. Die einzige Möglichkeit, dorthin zu gelangen, ist also per Flugzeug und Hubschrauber. Ich weiß, dass es weitaus schlimmere Dinge gibt, als mit dem Hubschrauber über einen Fjord zu fliegen, aber eine Schiffsfahrt zwischen großen Eisbergenhindurch, hat nun mal seinen ganz eigenen Zauber.
Wenn du weitere Bilder aus dem schönen Uummannaqfjord sehen willst, klicke hier.
Für weitere Informationen zum Fjord, klick hier.
Und hier geht es zur Beschreibung des Reisetages 2015 im Uummannaqfjord.