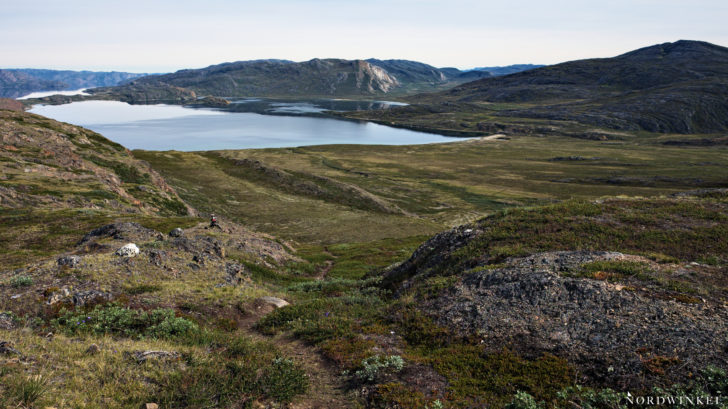 After a short but steep and breathtaking increase we had a beautiful view above the small lake Kangerluatsiarsuaq with a nice and unexpected sandy beach. Next time, when we hike the Arctic Circle Trail, we will rest at the beach for a night. I think it's awesome to step out of the tent in the morning and go swimming. One of the places at the trail, we couldn't spent much more time, because of the mistake with the gasbottles.
How we got to the small lake Kangerluatsiarsuaq, and what was happened with the gasbottle, you can find here.
Nach einem kurzen aber steilen und atemberaubenden Anstieg wurden wir mit einem großartigen Blick über den kleinen See Kangerluatsiarsuaq belohnt. Wie im Bild zu erkennen, mit einem wunderschönen und unerwarteten Sandstrand. Wenn wir noch mal auf dem Arctic Circle Trail wandern, werden wir dort wohl übernachten. Kann mir schwerlich etwas Schöneres vorstellen, als Morgens aus dem Zelt zu krabbeln und schwimmen zu gehen. Einer dieser Plätze auf dem Trail, an dem wir leider nicht zu viel Zeit verbringen konnten. Schuld war unser Mißgeschick mit den Gasflaschen.
Wie wir zum See Kangerluatsiaqsuaq kamen und was es mit dem Mißgeschick mit den Gasflaschen auf sich hat, gibt es hier nachzulesen.