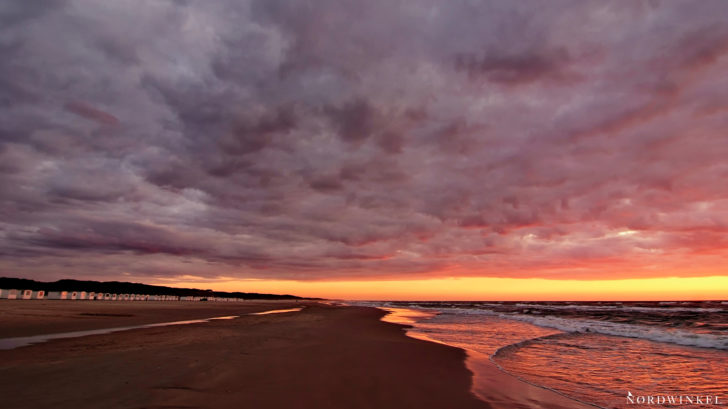 A heavy thunderstorm in Løkken was coming, until the sun went to the horizon. So the sun illuminated the clouds in unbelievable colours and shades of yellow and red. Just a few minutes later heavy rain soaked my clothes. But it didn't matter, because I got some incredible pictures.
But there is a story, before I took this picture. In 2014 I got the idea, to drive by car to France. I wanted to explore the channel coast line and the historical places of the second World War. My plan was, to stay there for two weeks and, may be, to get to the Atlantic Ocean. But after a few days I realized, that France wasn't my country. There was no place, where I met nice people. It felt like nobody accepted a solo traveller. At every campground, every restaurant and at the beaches no one was talking to me. I only got strange and deprecative glances.
After eight days, it was enough. I drove 1200km in one day back home. After one day of rest, I drove to Denmark and arrived there in the night. The first morning, when I left my tent, an older danish couple asked me something. Poorly I couldn't understand them, because I don't speak danish. To made it difficult, they didn't speak english or german. Communicating by hands and feets, I understood, that they invited me for a cup of coffee. So we had a wonderful morning together and all my trouble with the trip to France was forgotten. It felt like, I was coming back home. And also the thunderstorm in Løkken couldn't change that feeling.
Here you can find more informations about Løkken.
And here is another picture of this evening.
Deutsche Version
Ein schweres Gewitter zog über dem Strand in Løkken auf, rechtzeitig zum Sonnenuntergang. Dabei beleuchtete die Sonne die Wolken in derartig verschiedenen Gelb- und Rottönen, dass es mir schlicht die Sprache verschlug. Ein paar Minuten später durchnässte mich heftiger Regen. Aber das war mir egal, in Abetracht der Bilder, die ich aufnehmen konnte.
Aber es gibt eine Vorgeschichte zu diesem Bild. 2014 kam mir die Idee, meinen Urlaub mit dem Auto in Frankreich zu verbringen. Mein Plan war, die Kanalküste zu besichtigen und einige historische Schauplätze des Zweiten Weltkrieges. Ich hatte zwei Wochen Zeit und wollte sehen, ob ich vielleicht sogar bis zur Atlantikküste käme. Nach ein paar Tagen musste ich allerdings feststellen, dass Frankreich nicht mein Land war. Nirgends traf ich freundliche, aufgeschlossene Menschen. Es hatte den Anschein, dass Alleinreisende nicht sonderlich akzeptiert wurden. Auf jedem Campingplatz, in jedem Restaurant und an jedem Strand sprach niemand mit mir, sondern man warf mir herablassende und abschätzlige Blicke zu.
Nach acht Tagen hatte ich genug. Ich fuhr an einem Tag 1200km zurück nach Hause. Nach einem Ruhetag fuhr ich direkt weiter nach Dänemark und kam dort spät abends an. Als ich am ersten Morgen aus meinem Zelt krabbelte, sprachen mich ein älteres dänisches Paar an. Da ich kein Dänisch kann und sie kein Englisch oder Deutsch, dauerte es einen Moment, bis ich ihre Einladung zum Kaffee verstand. So verbrachten wir einen wundervollen Morgen zusammen und verständigten uns mit Händen und Füßen. Dies sorgte dafür, dass ich den ganzen Ärger mit dem Frankreich-Intermezzo direkt vergas. Es fühlte sich, als sei ich nach Hause zurückgekehrt.
Hier gibt es weitere Informationen zu Løkken.
Und hier gibt es ein weiteres Bild vom selbigen Abend.