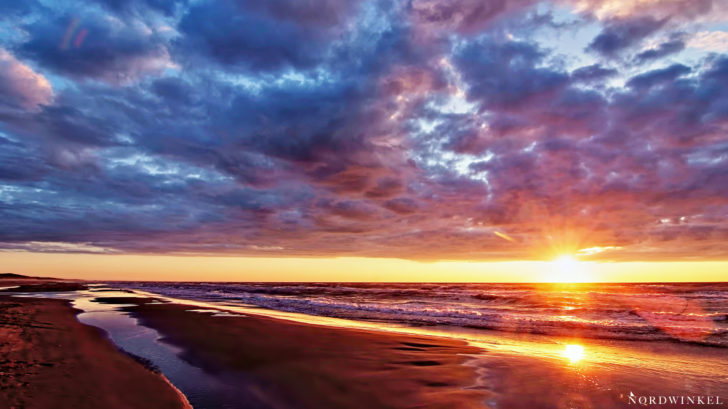 Today I wanna show a picture of a typical danish sunset. Simultaneously this picture should be also a small sign of hope. The clouds at the horizon could be so dark and heavy, but at the end there is always some light. So I try not to get sad and not lose my optimism. Pictures like this one of a typical danish sunset, cheer me up. I hope, that this effect will also benefit others. There will be a day, when it is possible to sit on the beach, enjoy the setting sun and hear the thunder of the sea. Until this day will come, don't lose heart, stay safe and stay home.
Click here to find more pictures of me from Denmark.
Click here to find more informations about the region Nordylland, where the most of my pictures were taken in Denmark.
Deutsche Version
Heute möchte ich ein Bild eines typischen dänischen Sonnenuntergangs zeigen. Gleichzeitig soll dieses Bild auch ein kleines Zeichen der Hoffnung sein. Die Wolken am Horizont können noch so dunkel und schwer sein, am Ende bricht doch immer wieder das Licht durch. So versuche ich nicht zu verzweifeln und meinen Optimismus zu verlieren. Bilder wie dieses von einem typisch dänischen Sonnenuntergang, heitern mich dabei zum Glück immer wieder auf. Ich hoffe, dass ich vielleicht auch anderen damit eine Freude machen kann. Es wird der Tag kommen, an dem es möglich sein wird am Strand zu sitzen, den Sonnenuntergang zu genießen und dem Donnern des Meeres zu lauschen. Bis dieser Tag kommt, verliert nicht den Mut, bleibt gesund und bleibt zu Hause.
Klicke hier um mehr meiner Bilder aus Dänemark zu finden.
Klicke hier um Informationen über die Region Nordjütland zu finden, in der die meisten meiner Dänemark-Bilder entstanden.