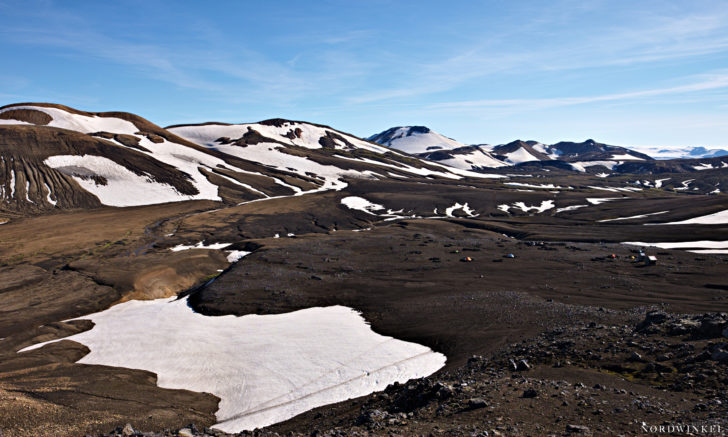 After our first stage on the Laugavegur we were rewarded at the end with a wonderful view over the Icelandic highland. This first stage was only about a distance of 10km. But these 10km were a tough challenge for us as absolute beginners, because of the height difference. The hike on the Laugavegur was our first hiking stage in arctic regions. In the beginning we didn't know, what it means, to hike 200 meters in height in 1km in distance. But at the end of the day, we knew very well what every single altitude meter on such a tour can mean. Especially with a heavy bagpack on your back.
In retrospect, the Laugavegur was our gateway drug into the hobby of hiking. This is partly due to this really wonderful first hiking day and the view over the Icelandic highland at the end of the day.
Click here to find more of my pictures from Iceland.
Click here to find more informations about the Laugavegur.
Deutsche Version
Nach unserer ersten Etappe auf dem Laugavegur wurden wir am Ende mit einem wunderbaren Blick über das isländische Hochland belohnt. Diese erste Etappe war zwar nur etwa 10 km lang. Aber diese 10 km waren für uns als absolute Anfänger wegen des Höhenunterschieds eine harte Herausforderung. Die Wanderung auf den Laugavegur war unsere erste Wanderetappe in arktischen Regionen. Am Anfang wussten wir nicht, was es bedeutet, 200 Höhenmeter in 1 km Entfernung zu wandern. Aber am Ende des Tages hatten wir intensive Erfahrungen gesammelt, was jeder einzelne Höhenmeter auf einer solchen Tour bedeuten kann. Vor allem mit einem schweren Rucksack auf dem Rücken.
Rückblickend gesehen war der Laugavegur unsere Einstiegsdroge in das Hobby Wandern. Und das hängt zu einem Teil an diesem wirklich wunderbaren ersten Wandertag und an der Aussicht über das isländische Hochland am Ende des Tages.
Klicke hier für weitere Bilder von mir aus Island und klicke hier für den kompletten Reisebericht zur Wanderung auf dem Laugavegur.
Klicke hier für weitere Informationen zum Laugavegur.