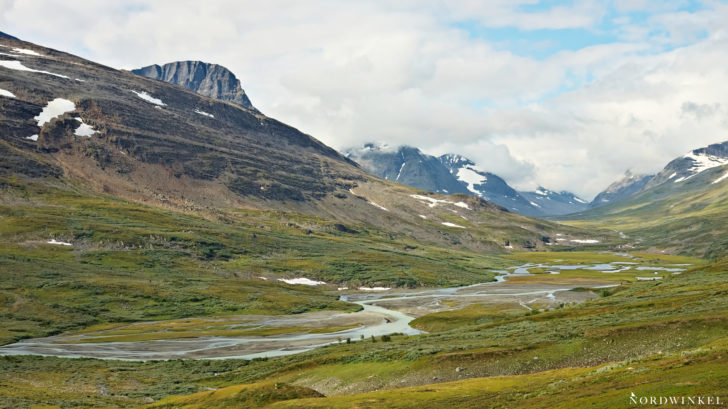 After a nice hike about nearly three hours, we watched back and got a really awesome view over northern Rapadalen. The valley is really famous for the abundance of green tones. As you can see in the picture, quite rightly. The big walls of the mountains make it possible for the interior of the valley to develop its own microclimate. On the one hand the mountains shield the inside of the valley of the rough arctic weather. On the other hand, it is possible that these mountains trapp rain clouds inside the valley. The meaning of the second scenario, we should experienced on our own.
After the experience of our crossing of the Rapadalen, today I would never again choose the way on the downside. The better chose would be the way over the flanking mountains. It would be longer, but the way over the mountains wouldn't lead you through thick underwood, over a lot of muddy or rocky underground and into the uncertainity, if a boat is possible to pick you up to Aktse. And you will have breathtaking view over northern Rapadalen and the Rapadelta.
If there is no boat heading to Aktse, you get a seriuos problem. In the first stage you will be confronted by a hike through a uncertain area with small ponds and big fields of mud. The second stage consists in climbing over a huge boulder field. Some of the rocks have the size of a family house. We met a guy in the hut in Aktse, who had to choose this way. He needed for the way of two kilometers five hours.
Click here to find more pictures of our tour through the Sarek Nationalpark.
Click here to find more informations about hiking in the so called "last european wildernes."
Deutsche Version
Nach einer schönen Wanderung von fast drei Stunden blickten wir zurück und wurden mit einer grandiosen Aussicht über das nördliche Rapadalen belohnt. Das Tal ist berühmt für seinen Vielfalt an verschiedensten Grüntönen. Wie man auf dem Bild sehen kann, völlig zu Recht. Die Steilwände der Berge ermöglichen es, dass das Innere des Tals ein eigenes Mikroklima entwickelt. So können eine Vielzahl von Pflanzen wachsen und gedeihen. Einerseits schirmen die Berge das raue arktische Wetter ab. Andererseits ist es möglich, dass diese Berge Regenwolken im Inneren des Tals einschließen. Die Bedeutung des zweiten Szenarios sollten wir am eigenen Leib erfahren.
Nach der Erfahrung unserer Durchquerung des Rapadalens würde ich heute nie wieder den Weg durch das Tal wählen. Die bessere Wahl wäre der Weg über die flankierenden Berge. Dieser Weg ist zwar länger weil man nicht mit dem Boot nach Aktse fahren kann. Aber der Weg über die Berge führt nicht durch dichtes Unterholz, über viel schlammigen oder felsigen Untergrund und in die Ungewissheit, ob dich ein Boot abholen kann.
Wenn kein Boot in Richtung Aktse kommen kann, hat man ein echtes Problem. Die erste Etappe wartet mit einer Wanderung durch ein unsicheres Gebiet mit kleinen Teichen und großen Schlammfeldern auf. Die zweite Etappe besteht darin, über ein riesiges Geröllfeld zu klettern. Einige der Felsen haben die Größe eines Einfamilienhauses. In der Hütte in Aktse haben wir einen Mann getroffen, der sich für diesen Weg entscheiden musste. Er brauchte für den Weg von zwei Kilometern fünf Stunden.
Klicke hier für weitere Bilder unserer Trekkingtour durch den Sarek Nationalpark.
Klicke hier für weitere Informationen über das Wandern in der sogenannten "letzten Wildnis Europas."